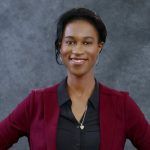 Iverem (Eva) Rose
Realtor Associate
A little about me
When it comes to her real estate business, Eva lives by the 3 Cs: Competence, Character and Charisma. "You've got to know your stuff, treat people right, and have fun!" she says.
In her five years in real estate, Eva has done it all, from handling rentals to working with investors/developers in finding off-market residential and commercial deals to rehab or hold for income generation. She also honed her expertise as a short sale negotiator for a third party negotiation firm that concentrates in short sale transactions. Her reputation for her persistence, attention to detail, excellent service, responsiveness and follow-up sets her apart and wins over loyal clients.
A graduate of SUNY Binghamton, Eva previously worked as a sports writer, covering the minor league baseball team, the Brooklyn Cyclones, affiliated with the New York Mets. She also worked in the hospitality/restaurant industry in Brooklyn perfecting her personable nature and interpersonal skills.
To Eva, real estate has been extremely rewarding; not just from a financial standpoint, but a personal one as well. "Making a positive difference in the lives of others gives me the greatest feeling, above and beyond anything that is purely self-serving." Outside of her passion for real estate, she enjoys expressing her creativity by singing and playing guitar.